My First 3D Print
I have worked with 3D printers before in past internships, and I learned how useful they can be for prototyping an idea, or a quick part replacement. But I decided to make my first print in the Jumbo Maker Studio to be both fun and functional.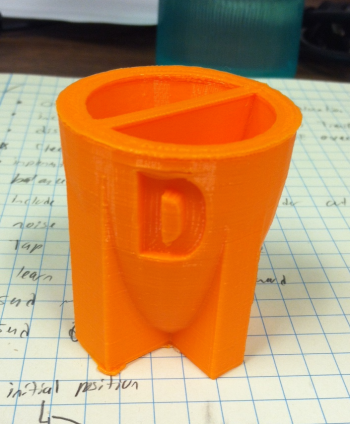 So I decided to print a small cup that just happens to hold 1.5 oz. Despite the relatively complex shape, it was fairly easy to make in Tinkercad, and it only took me about an hour to make. The idea came from two separate shot glasses I saw online. One had a divider down the middle if you wanted to make a fancy shooter and have the drink mix in your mouth, and I also liked a design where the bottom of the glass resembled a rocket ship. The beauty of 3D printing is that I was able to make the best of both worlds: a rocket ship cup with two separate sections to put my favorite beverages in.
Tinkercad is all about combining shapes, so I started with an upside down paraboloid for the basic shape and then added two rectangles on the bottom. Once I designed this foundation, all that was left was to make the holes which I cut with two half parabolas. And then I inscribed a D for Devyn into the side for fun. I left my design to be printed over-night, and woke up to the lovely creation posted above. It's smooth, clean, sturdy, and came out exactly the way I wanted. But in any design process, I realized that what I wanted initially still leaves a lot of room for improvement. The cup is much stronger than it needs to be, so next time I would make the walls a bit thinner, increases the carrying capacity of the cup.
Keep posted for my next print, which is not only functional, but is going to earn me some major points with my folks