Bray Shop
The Shop within Bray Lab is a space for collaborative fabrication. We have a wide array of tools, materials, and machinery for all Tufts students and faculty to use. Feel free to drop-in and check out the space, or sign up for one of our many equipment training sessions.
Announcements
Nov. 11, Nov. 14 and Nov. 15: The Shop and Testing Lab will close at 4pm
Nov. 23 – Friday, Nov. 25: Bray will be closed for Thanksgiving
MakerTag System (RFID)
To keep track of which equipment you've been trained on, Bray Lab has implemented a new RFID tracking system that controls the laser cutter and ShopBot CNC router. After you've been trained, our staff will help you set up either an RFID sticker or keychain that will allow you to control these machines.
Green Zone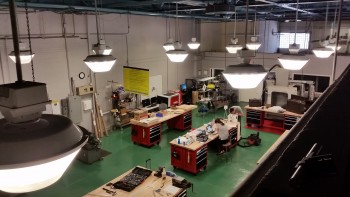 This is a low-risk zone for team-based project ideation and building. This zone is always monitored by the Bray Lab staff and/or student Shop Assistant and safety training is not required to use this zone.
This zone contains:
Hand tools and portable drills
Laser cutter
CNC Router for plastic and wood
Training for the Laser Cutter or CNC Router can be completed at any time.
Power Tools Zone

To use this higher-risk zone, you'll need to complete the online safety quiz and attend a 4+ hour Power Tools training session (during which you'll complete a project to prove your mastery).
This zone contains:
Chop saw
Drill press
Horizontal band saw
Jump shear
Tapping station
Vertical band saw
Precision Machining Zone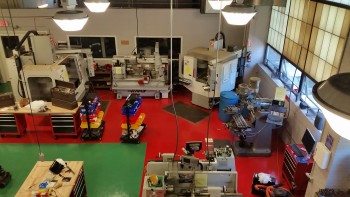 To use this high-risk zone, you'll need to complete either Milling or Turning training with Ben Ginden and request access on a case-by-case basis from the Fabrication Supervisor or Lab Coordinator. The equipment in this zone can cause serious injury.
This zone contains:
Bridgeport mill
Lathe
CNC Lathe
Haas Mini Mill for metals
Haas mill for metals
The Power Tools training is a prerequisite for the Bridgeport mill (Milling Intro) and Lathe (Turning Intro) training. See the diagram below.


Training for the CNC lathe and Haas mills are under development and currently not available.
Because serious injury can result from using this zone incorrectly, users must strictly follow the rules below.
Power Tools and Precision Machining Zone Policies
Users must complete training training and be approved to operate desired machine or tool
ALWAYS wear safety glasses
Be sure ALL guards are in place before operating the machine
STOP the machine before making measurements OR cleaning chips
Do not attempt to stop a moving or spinning part with your hand, use the brake
Be familiar with the location of the machine's stop/E-stop switch or lever controls
You are the ONLY one who should operate controls
Always be aware of the direction of rotation and RPM of tool/part being cut
NEVER reach over or near rotating cutter
NEVER start a cut until there is adequate clearance for ALL moving parts
Use care when cleaning machines – use shop vacs and brushes to remove chips
NEVER clean a machine with compressed air or your hands – chips are SHARP
DANGER! Serious injury can result from work that becomes loose and spins about on a drill press or milling machine. This dangerous situation is nicknamed a "merry-go-round".
General Policies
Keep the shop clean. Metal scraps should be placed in the scrap bin. Store raw materials and projects. Do not leave any materials or tools on the tables or floor.
Know the safety requirements of your material. For example:

Inhaling dust from some exotic wood can respiratory issues.
Magnesium chips burn with great intensity under certain conditions.

Stay focused. Do not permit anyone to distract you. No cell phones, ear buds or head phones.
Know what to do in case of a fire. Be familiar with the location of fire exists.
Report any injury to the Bray Lab staff or your instructor. First aid kits are accessible in the Shop.
Be aware of sharp edges and chips. Always de-burr fresh cuts and use a brush to remove chips.
No food.
Attire
Short-sleeve shirts. No long sleeves or loose fitted clothing.
Tie up long hair. Hair ties are available in the shop.
Closed toed shoes. No sandals. Wear shoes you don't mind getting dirty.
Remove jewelry. No rings, watches/bracelets and earrings.
Wear long pants. Pants cannot be loose. No shorts, skirts, dresses, or kilts.