Eaton Lab
Eaton Lab is a destination primarily for students and faculty that includes a traditional computer lab, a Genius Bar, and collaborative workspaces.
Computer Lab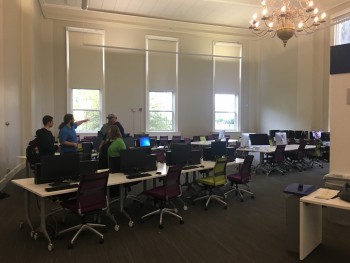 The computer lab setup provides a newly renovated space that continues to fulfill some of the key needs Tufts students value - quiet space to get work done and desktop computers enabling access to key software. Students will find brand new Apple iMac and Dell Precision Workstation computers with the most recent versions of many software products needed for their coursework at Tufts.
Collaboration Space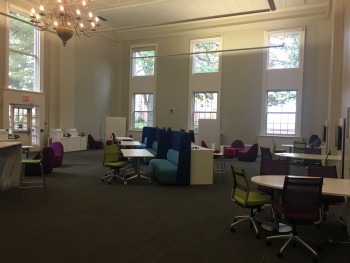 Drop-in to check out the new collaboration spaces in Eaton Lab! From printing stations, to high-top individual bar seating with monitors, to collaborative tables with large screen monitors for group projects, Eaton's collaboration spaces have something for everyone. There are movable whiteboards to facilitate brainstorming discussions and comfortable furniture to provide a relaxing environment in which to share and innovate!
Genius Bar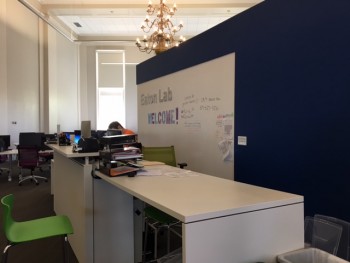 Situated in the center of the lab, the Genius Bar provides an inviting walk-up desk for technology support. IT support technicians are available to assist with general technology support as well as computer repair. Whether you need help or have a question, the Genius Bar is ready to provide support!
Programming Events
Stop by Eaton lab to learn more about resources available to Tufts students, faculty and employees. For topics, dates and times, check out the full schedule here.
More information on Eaton Lab can be found on the Reimagining Eaton Lab website.
We'd love to hear from you! Use this form to provide feedback on Eaton Lab!