Dimension 1200es
If you haven't already, please read the 3D Printing Handbook to learn the basics of 3D printing before using this machine. Also check out the CAD Handbook if you'd like to create your own 3D models from scratch.
The Testing Lab within Bray Lab has one Stratasys Dimension 1200es 3D printer.
File types: The CatalystEX Software for this machine accepts 3D .stl models.
Materials: ABS and soluble support material (Bray Lab has a Dissolving Bath for removing the support material).
Build size: 254 x 254 x 305 mm (10 x 10 x 12 in.)
Layer thickness: 0.33 mm (0.013 in.) or .254 mm (.010 in.)
Setup
Digital Setup
Select File -> Open STL to import a design.
Double check part size's outside dimensions are correct by matching with STL size (bottom left corner)
Set the model interior

Sparse – low density (low strength, quick print)
Sparse – high density (medium strength, fast to medium print time)
Solid (high strength, slow print)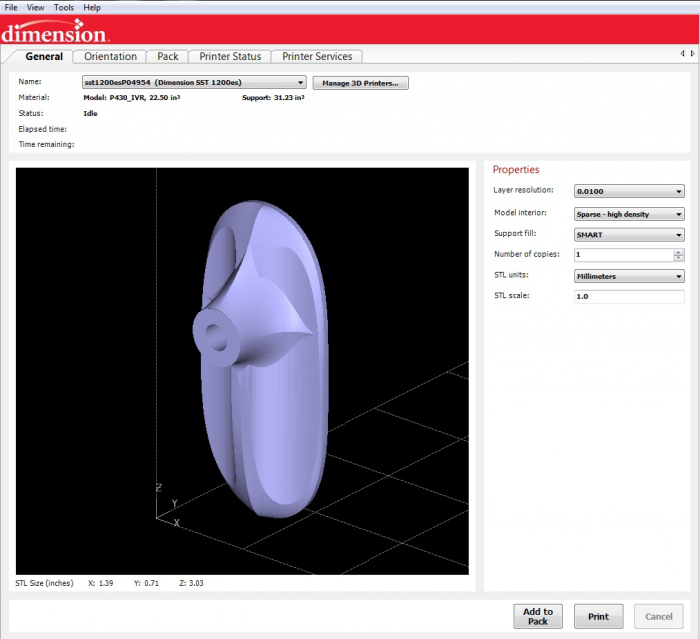 Select 'Orientation' tab to properly orient part to limit necessary support material
Press 'Add to Pack'
Select 'Pack' tab
Position model in middle of bed
Press 'Print'
Physical Setup
Select option to start print on machine
Safe Operation
Watch the machine for at least the first 30 minutes of the print to ensure the printed material adheres to the bed and the object is printing correctly.
Cleanup
Take the tray out of the machine to remove your 3D print
Place tray back in machine
Throw excess material in the trash.
Dissolving Bath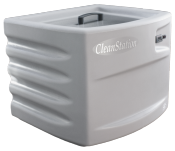 Bray has a CleanStation DT3 for 3D printed parts that uses Sodium Hydroxide liquid to dissolve soluble support material.
Material Data Safety Sheet for CleanStation DT3 liquid: MSDS_SolubleConcentrate_1023810C
Safe Operation
Put on safety goggles and neoprene gloves before touching the machine
Remove as much support material from the 3D printed part as possible
Use tongs to put object into the bath
Press the ⇓ arrow button to start the cleaning cycle. The ⇑ arrow button will manually stop the cleaning cycle.
Use tongs to pick up the part after cleaning is complete
Rinse your part under water in the sink
In case of emergency: Shut down the machine by turning the power switch off and unplug the power cord.
Cleanup
Wipe down the counters and clean up any wet spills with paper towels then throw used towels away.
Put goggles, gloves and tongs away.